Studies continue as EMS deploys MS Teams in response to COVID19 lock-down. April 2020
The affects of the Corona virus pandemic has permeated every facet of our lives, from our personal hygiene, how we interact with our family, what we eat, how we dress, where or if we travel, how we work and now how we educate our children.
This has been a steep learning curve for all educational institutions across the world, including Pakistan. How do we continue to educate our children, delivering the high level of education they rightly deserve without students having to leave their homes.
EMS has stepped up to the challenge by deploying high level modern technology such as MS Teams that support collaborative online learning with clever management practice to minimise disruption to our students educational development?
The use of MS Teams and its associated Microsoft Office 365 applications has opened up a whole new world of educational possibilities and we look forward to exploring these opportunities as we move forward into a world post Covid19.
EMS progress to DI STREAM Xtreme 2020 finals. March 2020
In March 2020 EMS students were due to take part in the 3rd Destination Imagination National Tournament! This tournament is an exciting and innovative series of challenges based on the application of the principles of STREAM (Science, Research, Technology, Engineering, Arts and Mathematics). Students work in teams to research, design and build a solution to their preferred Challenge. In solving a Challenge, they learn the creative process—a powerful learning tool that helps students assess problems, reflect on their progress, learn from failure and turn their original ideas into reality. Mastery of STREAM prepares students for today's and tomorrow's jobs – and can ensure that our country become a leader in technology and innovation.
Teams from all over Pakistan were invited to participate in this Tournament with the winning teams getting an invitation to go to the Global Finals which were scheduled to be held in Kansas in May 2020. Unfortunately, the Global finals were cancelled due to the corona virus pandemic.
Dawn Spelling Bee November 2019
EMS High School did fantastically well in the Dawn Spelling Bee 2019 with Muhammed Taquee of EMS High School (Boys Branch) being named the Winner of the 12-14 years category. Ozair Ahmed and Hassan Ahmed from the same branch were the 1st and 2nd runners up respectively.
Zaid Rayyan Khan EMS High School (Boys branch) was the Winner of the 15-17 year olds category with Umama Bint e Umair from the Girls branch as the 2nd runner up.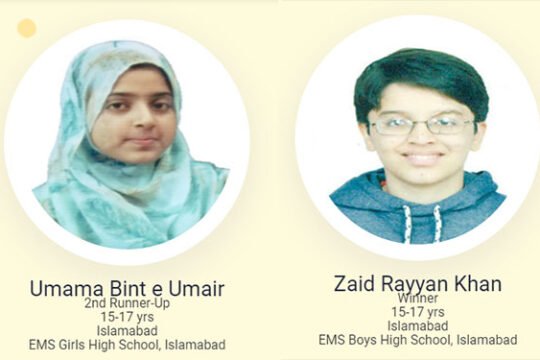 Pakistan Day Celebrations. August 2019
Pakistan Independence Day was celebrated with immense joy and national pride here at EMS. There were fun-filled activities, stalls and exhibitions for the whole family to enjoy. God bless Pakistan!
EMS students excel in IGCSE 2019 Results. August 2019
The students this year were pioneers for the changed syllabus as well as for the revised grading system. The new grading system follows the UK Govt requisite for numbers 9-1 which was exciting but a bit nerve-wracking for the first batch. The changed syllabus had brought in many new topics and varied paper formats.

20 of the 24 students are featured here as they scored 5 or more 7s (a 7 is equivalent to the old A).

The batch acheived a total of 45 9s! (9 is a new grade point, created to separate the top 3-5% A*s!) Alhumdulillah

17TH Annual National Engineering Robotics Contest (NERC) JULY 2019
NUST College of Electrical & Mechanical Engineering (CEME), STEM Careers Program HEC and National Centre of Robotics & Automation (NCRA) at CEME, organised the 17th Annual National Engineering Robotics Contest (NERC 2019) at the College from July 24 to 27, 2019. The four-day event had seven categories and the prize money of these categories were sponsored by NUST, STEM Careers Program HEC, Head Start School, NEXUS Technologies, Alfoze Pvt Ltd, Grana, NUST Alumni, EME Center of Innovation & Entrepreneurship (ICE), Intech Automation, and IEEE Young Professionals.
NERC is the pioneering and biggest Robotics contest in the country, which attracts participants from all across Pakistan. Dr Muhammad Amjad Saqib, Founder of Akhuwat Foundation, graced the closing ceremony as chief guest. He said that he was very glad to see the Engineering students of Pakistan being given a complete Engineering experience through NERC, and that we as a nation are progressing in these technologically advanced fields.
1st Runner up NERC 2019 Modular Category (Schools), with cash prize PKR 15,000 was Team Botistotles from EMS High School. Mashahallah!
EMS High School wins the National FIRST Lego League Championship for the third straight year. January 2019
Three teams registered and took part in the competition. Preparations began in October. First there were the Regionals in January where two teams won Regional Champion awards and the third was also selected for Nationals
In Nationals last night our teams made us all super proud:
Team NovaBauts won the Championship Award. Team Omegabots won a category award for their Core Values and the Robot Game top score award. Team Moonwalkers won an award for Project Innovation.
These children have worked tirelessly and so very enthusiastically to bring this honor home. Last few weeks we were at the school working away 13-15 hour days. All the sweat, blood and tears and the many many duas from parents and well wishers has led us to this. We are so very grateful.
NovaBauts will be representing Pakistan at the FIRST Lego League World Festival in Detroit, USA this April InshaAllah. Omegabots will be representing Pakistan and EMS at the FLL Event in Izmir, Turkey this May InshaAllah.
We will be working extra hard to iA keep our flag and heads held high.
Over 45 teams from across Pakistan had taken part in the championship while 21 had made it to the Nationals.
Reminder: EMS BOTistotles won the Nationals last year while EMS Alphabots were the Champions in 2017. Alhumdolillah!!!